Reading Time:
2
minutes
By: Stacie Mahoe
When your child is struggling or stuck or in a slump, it's easy to slip into frustration as a parent.
It's hard to stay calm and confident and positive and supportive and encouraging as a parent. But THIS is when they need it most!
Take a good hard look at your own "self talk" about your child during this time. What have your thoughts, about her and this experience, been?
Jerry Lynch has some awesome insights on plateaus in his book "Let Them Play" …
" … most children must plateau before experiencing the next breakthrough.
Most worthwhile learning takes place during the period of a plateau, and I encourage you to go with the flow when this happens.
Plateaus are simply another stage along the path of mastery.
Further, reassure your child athlete that it's perfectly fine to plateau, and with patience, persistence, and hard work, he or she will soon be rewarded again with measurable improvement.
Of course, parents must also model this approach and be the change they want to see in their children.
Are you patient and tolerant of your own plateaus?
Our children are mirrors of everything we do, so we must be kind to ourselves and accept what life brings our way.
The plateau is a time when your child's mind and body catch up to a new level of performance.
Why do we fight and battle with it? We are afraid, perhaps, that we will become complacent or stagnant and never go forward.
Remind yourself of the truth: plateaus are a sacred space offering you and your child the chance to master what has recently been learned.
No need to get caught in society's pressure trap of achievement. Do not expect to go forward constantly.
If you expect to have fun mastering each new level, expect to do well, and expect good to happen, you will, paradoxically, advance sooner.
Let go of the need to achieve, and you will achieve. Go slower, arrive sooner!"
One of THE best ways to help your daughter master the mental game is to improve yours 😉
One of the best ways to help her develop her confidence is to have your confidence in her be unwavering, no matter what the circumstance.
Frustration, and focusing on what's not working, doesn't allow you to effectively communicate that to her.
If you're not confident, that makes it harder for her to be.
I know it's hard, but totally worth the effort ????
Other parenting resources: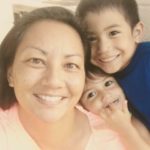 Stacie Mahoe is Sports mom to 8 active kids. Developing, inspiring, and empowering true champions for life, not just sports. You can find her on Medium here.
Confluence Daily is the one place where everything comes together. The one-stop for daily news for women.