Essential Health Tips for Women Over 40 and Beyond
Reading Time:
2
minutes
By: Kwavi Agbeyegbe – Confluence Daily is your daily news source for women in the know.
If you are a woman over 40 and beyond, you're most likely thinking "What's the best workout for me?" or "What should I avoid in my workout regimen?" Of course, we know that we need to adjust our workout routine over time as the needs of our body change and evolve but what are the do's and don'ts? 
These are the questions I frequently get to ask. Today, my friend Tammy Stokes, Celebrity Wellness Expert and owner of West Coast Workout and Café West Express in Atlanta joins me in Kwavi TV to help shed light on this topic. Watch the video and find out what women over 40 should focus on in terms of their workout program. Watch it until the end because we save the best for last!

And if you have questions, I would love to hear them.
Also, visit my YouTube channel KwaviTV and subscribe! It is a lifestyle channel dedicated to wellness for women through the various twists and turns of life like motherhood, midlife, and menopause.
You need it. You deserve it. You are worth it.
More by: Kwavi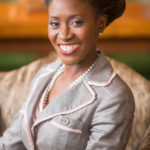 I'm a Certified Weight Loss Coach + Lifestyle coach who specializes in helping bright, successful women in their 40's and above manage their health, mindset and waistlines. I'm an advocate for body acceptance and loving yourself from the inside out. A few years ago I noticed a lot of my clients coming in with weight gain (especially around the middle) even though they had not changed their exercise or nutrition routine.
My passion is on finding ways to help women in midlife experience a new lease on life by sharing self-care practices that help them shine during this next new phase.
I provide women with powerful tools and empowering knowledge to help them take control of their bodies while learning to embrace midlife as a transition that is an amazing and fascinating journey.
If you are interested in learning more about midlife matters click here to join my list and receive a free gift.
Website – www.kwavi.com
Email – info@kwavi.com
Facebook – https://www.facebook.com/kwavi
Instagram – @midlife_lifestyle
Youtube – https://www.youtube.com/kwavitv
Linkdin – www.linkedin.com/in/kwavi
Twitter – @Kwavia
Confluence Daily is the one place where everything comes together. The one-stop for daily news for women.