The New Yorker: I Listened to All Six Trump Rallies in October. You Should, Too.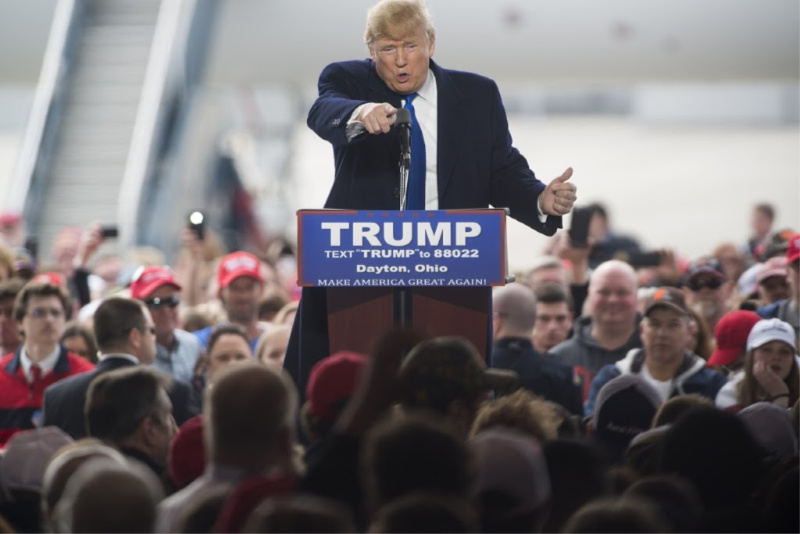 Reading Time:
9
minutes
By: Susan B. Glasser – Confluence Daily is your daily news source for women in the know.
Listen to the article at The New Yorker
It's not a reality show. It's real.
From the start of the Trump Presidency, many Beltway wise men, and more than a few of Donald Trump's own advisers, said, Don't pay attention to the tweets; forget the overheated language and the alarming one-liners coming out of Trump's constant campaign-style rallies. Pay attention to the policy. They repeated this even after Trump fired his White House chief of staff and Secretary of State on Twitter, and started making policy announcements to his followers that his advisers didn't know about. They are still, essentially, telling us to disregard what the President says. On Thursday, that was exactly the response offered by Trump's chief economic adviser, Larry Kudlow, when he was asked about a series of attacks by the President on the "loco" Federal Reserve, which Trump said had "gone crazy" by raising interest rates and, in his view, causing the week's precipitous stock-market decline. "The President says a lot of things," Kudlow told reporters on the drive outside the White House, where Trump's advisers are often found in the mornings, cleaning up this or that remark from the President. "He has a lot of fun."
Trump does indeed say a lot of things, which causes another problem for those watching him. Not only do his advisers tell us to disregard his comments, but he makes so many of them. Almost two years after his election upset, we still haven't quite figured out how to deal with the daily flood of bombastic rhetoric, instant punditry, and rambling soliloquies that Trump increasingly chooses to spend his time on in office.
So what would happen if the President of the United States threw a rally and the cameras didn't show up? Since Trump entered politics to round-the-clock cable coverage, this has been the demand of some of Trump's biggest opponents, those who believe that real-time televising of what Trump says when he says it has both created and enabled this serial fabulist by giving him an unchallenged platform.
Well, we're starting to find out. On Wednesday, Trump flouted convention and flew to Erie, Pennsylvania, for a political rally as one of the most intense hurricanes to hit the United States in decades pounded Florida. The President attributed his decision not to cancel to the thousands of people already lined up to hear him. "It's a very important rally," he told reporters. When he got there, however, even the usually reliable Fox News refused to carry the show, sticking with weather reports on the storm and its prime-time lineup. Even as Trump was onstage, Politico reported that Fox's ratings for coverage of his recent rallies had dropped below those of its regular shows. (At one point, when I switched over to check Fox, not only was Trump still shut out but the Fox host was joking with a guest about emotional-support animals.) The only national network to air the Pennsylvania rally live was C-span 2.
But I think it's a mistake. The problem is that there are so many outrages, we are in danger of ignoring them, or dismissing them as mere spectacle. The torrent of Trump's words is exhausting, contradictory, annoying, and more than occasionally amusing, and it's fair to ask what some of it amounts to. I certainly don't think all the networks need to air his remarks live and in full all the time. Still, tuning out the President is hardly the way to understand him. So I decided to watch all of Trump's rallies in October, as he is stepping up his midterm campaigning.