Reading Time:
8
minutes
Source: Philly Voice – Confluence Daily is your daily news source for women in the know.
Heartbreak brought Vince Marie and Priscilla Costa together – and they're moving forward in their own way.
Their names are Vince Marie and Priscilla Costa. She's an artist, wedding-gown designer and business owner. He runs a creative production agency called High Heels and Bananas.
Vince is a widower. He lost Janine, his wife of 27 years, to an aneurysm the day before the Eagles won the Super Bowl in February 2018. When those memories surface, he wipes away some of his tears, and Priscilla helps with the rest.
Priscilla, who came to this country from her native Brazil in the early 2000s, is recently divorced. Fueled by a creative spirit, she's quick to laugh and hasn't lost much of her homeland's accent or joie de vivre.
Neither one of them has time for people who choose to tear others down. It's a theme revisited countless times during a conversation Monday that lasted a couple of hours.
Snuggled on a couch in the Maple Glen, Montgomery County home they're trying to sell, they finish each other's sentences like people who have been together for decades. They met just months ago via the online-dating site eHarmony.com, though.
Perhaps that's because Priscilla got to know Vince in a deeper sense by reading every entry of the "Day Without You" blog he started, to cope with the unspeakable loss of his wife and keep her memory alive for himself, their two children and the world.
Vince and Priscilla – she also has two children – would make for a tear-jerker of a Valentine's Day love story, but they're not sitting here fielding questions because of their love for one another.
No, they're talking – candidly – about the home and specifically the real estate listing that went online last Thursday night and made headlines around the world.
Yes, Vince and Priscilla are the brains behind the "50 Shades of Maple Glen" listing, which played up a basement "sexual oasis" filled with BDSM equipment and props to help bolster interest in a side gig: renting out the $750,000 home as MaisonXS or "Sexy House" on Airbnb.
(Warning: This video contains some profanity.)
On Monday morning, as more people arrived to tour the 5,000-plus-square-foot house, the couple shed all filters. If they had filters in the first place.
They explained how they met, how the idea behind the viral listing came into focus, the Oregon craftsman who built – and recently delivered – the bondage/fetish furniture in the basement, and judgment cast upon them in the few days since listing went public.
'WHO WANTS TO RENT IN AMBLER?'
The conversation starts with Janine's passing, and the emotional turmoil beset upon a husband, a 14-year-old daughter and a 20-year-old son in mourning, a grief deepened by her missing the championship won by the team she loved.
Vince has heard the judgmental whispers – was it too soon to move on, to meet Priscilla on eHarmony five months later. He said he tries not to pay them much mind. He's not one to judge others, which makes it easier.
"On my second date with Priscilla, she confessed to me that I was her soulmate," he said. "I knew then that life would be good, regardless of the hardships it throws at you."
The couple is in the midst of a move from this corner of Upper Dublin Township to Philadelphia that was brought about by Vince's daughter "wanting to be challenged in education a little more" in the wake of her mother's passing. An eighth-grader, she found a Montessori middle and high school in Northern Liberties that fit the role.
With Priscilla's children (11 and 15 years old, respectively) still enrolled in Montgomery County schools, they couldn't up and move this past summer. Besides Vince figured they'd missed the prime home-selling season.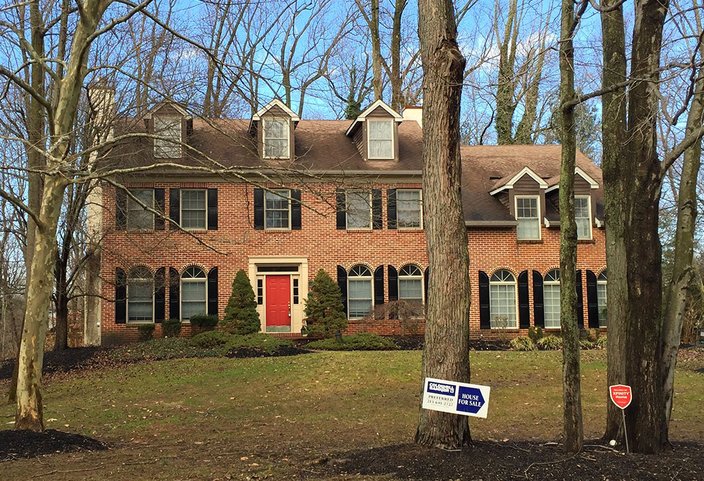 BRIAN HICKEY/PHILLYVOICE
With Vince's sister operating an Airbnb in Queen Village, the couple decided to rent out the 21-year-old home until they were ready to put it on the market in early 2019 – "to subsidize (the two-property lifestyle) until we list it," he explained.
Then, the couple asked themselves one important question that very well may have changed the direction of their lives: "who the f*** wants to rent in Ambler?"
They knew they needed a hook, a gimmick to make such a rental desirable in this somewhat sleepy part of Montgomery County.
Priscilla thought back to Brazil, where "very high-end hotels" served as what many call short-stay love motels.
It was their a-ha moment: let's market the Norristown Road Airbnb as an Americanized version of that.
The problem? There's not exactly a "How To Start A 'Love Hotel' handbook. So, they got to work performing due diligence.
SCOUTING SEX CLUBS
What they had was an idea.
What the self-described workaholics didn't have was the necessary equipment and accessories, a customer base, a marketing plan or hard-and-fast knowledge of what makes people in that scene tick.
Sure, they were creatively successful in their fields, but this was a whole new world, Priscilla said.
In August, they started clearing out the five-bedroom, two-and-a-half bath home ahead of their efforts to rent it.
Then, the couple started going to various sex clubs in the city and surrounding area to find out what type of equipment their clients would want to see in such an Airbnb offering.
"It's a sexy thing," said Priscilla, explaining they were welcomed at the clubs, not seen as sexual tourists asking annoying questions but first-timers trying to find their way.
"It was hard for me, but I never felt judged when we were there. They were so respectful," she continued. "There's nothing forced. No one's touching you. It was actually super fun because we learned so much and opened our minds even more, right?"
Right, responded Vince.
"We actually engaged with them via different means, communicating in person or online, just to see the level of interest in something like this," Vince said of the people they met there, and at strip clubs in the area. "They are the most respectful, discreet people. They have honor. There's a code.
"Some of our friends were doubters – 'do you really think this kind of thing could work?' But, we were getting all excited about the idea. Yes, this sort of thing could work."
"We have nothing to hide. Respect our space and we'll respect yours." – Vince Marie
A friend from the creative field helped them work through the names that could attract attention. Those were some fun brainstorming sessions that started with "Villa Rouge" and ended with "Maison XS," which is French for House XS or "Sexy House" as it's branded on the business cards sitting on a counter in the couple's kitchen.
"This is it, that's the stunt," he said of the marketing idea that would make their listing stand out from the proverbial crowd.
From there, they tracked down a gentleman by the name of Jan Maartensen from Medford, Oregon, aka Instagram's "Bondage Builder" whose Etsy page boasts of "bondage and fetish furniture."
Martensen built the bed, sex swing and various other pieces of fetish gear and personally delivered them to the home. (He would stay at their home for a spell, creating similar objects for customers in nearby states.)
Vince and Priscilla would pick up additional items: the wooden hand sitting on a table next to the bed and the wooden figurines that serve as how-to guides, from IKEA, and the whips, chains and related equipment from other local stores.
When that process ended in mid-November, they turned their eyes toward marketing: the Instagram accounts, websites and the like.
The first of many rentals would be a New Year's Eve party that ticked their neighbors off – and prompted the couple to clue in neighbors on their secluded block to their marketing plan.
"We really wanted it to be a private thing. They told us there'd be six people here, but it turned out to be near 150," Vince said. "The neighbor down the block called at 2:30 a.m. and wasn't very happy about it.
"We have nothing to hide. We wanted to make it as seamless as possible. Respect our space and we'll respect yours."
January would see more rentals, none with the detrimental impact on neighbors' lawns as the New Year's party.
Then, last week, they knew it was time to take the next step, sending word to Melissa Leonard, a Realtor based in Blue Bell, to publish the listing they figured would go viral.
'IT'S A SEXY PLACE, BUT IT'S NOT DIRTY'
Everybody knows what happened from there.
The "sex dungeon" – a label that Vince abhors – was the toast of the social-media world on Friday. On Monday, it made its way to "The View," a segment that – watching on a phone in the garage – ticked him off since one of the hosts labeled people involved in such a rental as "freaks."
"It's not a f****** dungeon. I don't even like 'oasis,'" he said before Priscilla reined him in. "It's an adult playground. It's whatever the f*** you want it to be."
Still, the couple loved the attention. It represented an important step, despite the warts and judgment, in turning their well-considered business plan into the international success they hope their newly established brand can become.
Vince pushed back at any criticism that claims their real estate agent was in on a "stunt" to help sell the house and relocate. ("They were not. This was all my doing. They're absolved of any rumors about their involvement," said Vince. In fact, Leonard is searching for a new property for Maison XS to host Airbnb rentals.)
For her part, Priscilla scoffed at commenters who claimed the home must be a disgustingly germ-infested hive of sin.
"We live here. It's our home," she said. "It's a sexy place, but it's not dirty."
What they hope they've provided is a place for people to come and live the sexual life they want to live without fear of prying eyes.
"We wanted to offer a place where you can come and not be judged, to not feel fear," he said. "Maybe some people aren't comfortable going to sex club, but they can come here and it can be anything they want it to be. We don't judge, and we don't want you to judge others. Let people be the people who they are and not get into their business."
There have been countless bookings in the past several weeks – including a music video being filmed there – and many more have poured in since the viral-attention onslaught. Later this week, models will arrive for a photo shoot.
Priscilla mentioned bachelor parties and a house where people can get ready before their weddings as other options.
For all the effective buzz, there's been a negative side: their kids have heard earfuls from peers at school.
Priscilla's oldest son said someone mocked his Brazilian heritage, saying it means he's from a line of "freaks" who like sex dungeons. Vince's daughter said that "everybody at Upper Dublin High School knows about it."
"We laugh at life. People may judge us, but we don't care." – Priscilla Costa
The couple has heard its fair share of negative reactions, as well, with Priscilla suffering slurs aligned with promiscuous sexual behavior and others questioning whether Vince is dishonoring his wife's memory.
"Everybody has their own healing process. Some people need more time than others," he said. "Everybody just deals with s*** differently. People questioning if I moved on too fast? How f****** dare they."
Both admit the project has helped distract them from some heartbreaking life experiences, but don't think anybody has a right to tell them how to live. The pain is something that connected them from the outset of a nascent relationship.
"Both of our lives have done a 180 this year. We put it all together in a way that worked for us," said Priscilla. "I think we're both very grateful."
Vince is thankful their business strategy is going according to plan, but there's more to it than that.
"I just want to inspire people not to judge others. We're not doing anything wrong. We have nothing to hide. We're unafraid. We like to look more at the positive than the negative. We embrace those comments," he said. "You can have f****** fun if you choose to have f****** fun. And, we're having a f****** blast."
Oh, about that basement.
It used to be a playground for kids with a PlayStation, foosball set and ping-pong table. Now, it doubles as a sexy Airbnb draw when the family isn't home, and Vince and Priscilla's bedroom when they are at home.
With the capacity of changing the mood nightly with different lighting and musical settings, it's become their oasis, even if Vince hates that term.
"We created a fantasy room, and we love it," Priscilla said. "We laugh at life. We don't take it too seriously. People may judge us, but we don't care."
Confluence Daily is the one place where everything comes together. The one-stop for daily news for women.