Reading Time:
4
minutes
By:  Lisa M. Hayes – Confluence Daily is your daily news source for women in the know.
I like to throw shade at Kim Kardashian West as much as anyone. And to be clear, when I saw the headline reading, "Kim Kardashian West Will be Visiting the White House to Discuss Prison Reform", I had the same reaction most people did, which was, "what the actual fuck??"
However, as much as it pains me to admit, a second glance at that story shifted my perspective significantly because Kim Kardashian West is not the story.
Kim Kardashian did get an audience with the President. The reality star is particularly campaigning for the release of one prisoner: Alice Marie Johnson. Alice is the story and her story is one of the thousands like it.
Johnson is serving a life sentence.
The 63-year-old great-grandmother is currently serving a life sentence in prison for a nonviolent drug-related crime and was not eligible for parole.
Johnson was convicted in 1996 on eight criminal counts stemming from a Memphis-based cocaine trafficking operation involving more than a dozen people. She was sentenced to life in prison in 1997.
As one of Johnson's lawyers, Brittany Barnett, told The Daily Mail, "The message to the president is that Alice Johnson, the 21 years she has been in prison, represents a punishment that more than pays her debt to society and that to keep her prison the rest of her life is morally and economically unjustifiable."
Johnson became "involved in drug trafficking" during a particularly low point in her life. She'd been fired from her job at FedEx, where she had worked for 10 years, due to a gambling addiction; she got divorced; and then her youngest son died in a motorcycle accident.
Alice Johnson broke the law. There's no question about her role in criminal activity. She did bad things, however, she claims she wasn't a dealer, but more of an information sharing middle-person in a larger drug sales ring.
Even though her arrest in 1993 was her first offense, Johnson received a life sentence, which she began serving in 1996. During the trial ten of her co-defendants testified against her in exchange for a reduced or dropped charges, Mic reports. Johnson, however, did not receive the same mercy, despite having not previous drug charges.
Johnson's children have long petitioned for her release.
Speaking in a video for Mic, Johnson's daughter, Tretessa, said of her mother, "She's made some serious mistakes in her life, but she is not this monster. I mean, she's really turned a very negative situation to as positive of a situation as she can."
And here's the thing: It's not a theory, it's a fact. Black people and White people in the U.S. are not sentenced the same for similar crimes, especially when it comes to drug-related offenses. There is no one more vulnerable to the criminal justice system than a black woman without resources.
Alice Johnson's story isn't about prison reform. It's about sentencing reform and it's long overdue. The fact that it took a meeting of the likes of Kim Kardashian West and Donald Trump to put this story in the media headlines is a clear demonstration of how far we have to go when it comes to even an awareness about sentencing inequity let alone reform.
Kim Kardashian is famous for being famous. I'm not shy about saying I'm not a fan. In my opinion, her husband, Kanye West, is a disgrace and someone should pull his recording deals, microphone, and Twitter account for the sake of humanity. I don't think I'm alone in that sentiment. However, my opinion doesn't matter much.
The reality of this situation is, Alice Johnson's family have been trying to get her situation addressed for years to no avail. It took a celebrity with connections to make this a story. In fact, it took a celebrity many people regard as self-absorbed and shallow, but was willing to make the call and pull the strings.
Celebrities always face the glare of public scrutiny in ways most people can't understand. When they voluntarily put themselves at the crossroads of that scrutiny and social justice issue the heat gets even hotter. I'm not sure what we expect them to do. However, when one of them steps up for the greater good, no matter how disconnected from reality it might seem, maybe we should applaud rather than bash them. Volunteering for the media shit circus isn't fun.
But that's what Kim Kardashian West did. Yes, she leveraged her connections, and maybe even her husband's vitriol to get an audience with the President of the United States. However, frankly, I can't think of a more responsible use of her celebrity. Privilege can be a powerful tool when it's used correctly.
And for the record, Kim didn't go to the White House alone. She took Shawn Holley, an attorney, and actual expert on this issue with her. Kim used her privilege to make space at the table for someone else.
Trump seems to be in the pardoning mood. Maybe something will come of this for Alice Johnson. However, even more important than that is maybe we can have a truly constructive dialog about an issue that's lurked in the shadows of our criminal justice system for years. Sentencing inequity destroys lives and families with the kind of multigenerational impacts we can't fully understand. If it took Kim Kardashian West to start that conversation, then so be it.
More by Lisa:
The 5th Stryker Brigade Proves the Language of Dehumanization Isn't a Just a Historical Issue
EXCLUSIVE: ​Stormy Daniels Gives Confluence Daily an In-Person 1 Question Interview (After She Took Off Her Clothes)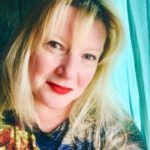 Lisa Hayes, The Love Whisperer, is an LOA Relationship Coach. She helps clients leverage Law of Attraction to get the relationships they dream about and build the lives they want. Lisa is the author of the newly released hit book, Score Your Soulmate and How to Escape from Relationship Hell and The Passion Plan.
Confluence Daily is the one place where everything comes together. The one-stop for daily news for women.