Reading Time:
< 1
minute
Confluence Daily is your daily news source for women in the know.
Because you know you love Blue Cheese Dressing too…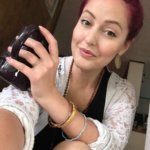 Kesley 'Kes' Posey is a culinary enthusiast and an Atlanta based private chef who uses social media to share her love of cooking far and wide. With many of her earliest and dearest memories tied up in apron strings, she sets out to make cooking fun and accessible for anyone who wants to give it a try. With a mission to get more folks to pull up a chair to their own kitchen table, she infuses humor in each dish and reminds us all that cooking is for everyone.