Reading Time:
2
minutes
Confluence Daily is your daily news source for women in the know
Culturally, we fetishize desire, yet we relegate true desire to the Closet of Unsavoury/Unseemly Things. We learn to mistrust our desires, and bury them so deeply that they lose their power to guide us to our unfolding destiny.

And yet, Desire is the voice of the soul.

Our relationship with desire has to do, in part, with giving, receiving, fullness and emptiness. When I let myself feel my desire, ask for what I want, do what it takes to create it, and receive it with gratitude, I fill my heart. Out of that fullness, giving flows naturally. We can only give what we have within us. So what we give when we're depleted is depletion; and from fullness, we give fullness.

Several years ago I lost the vision in my left eye, very suddenly, when an artery exploded underneath the retina. For the first while, I couldn't drive, or pour a glass of water without spilling it all over the floor.

It was a humbling experience, to surrender to the gift of necessity, to let myself be taken care of. My friends and I talked about it at length — how it felt, for them, to give, to care for me. How it felt for me, to be so vulnerable, to open to receiving with empty hands and a humble, grateful heart.

But what I invite you to explore is more than necessity — not just asking for what you need, but truly attuning to, honouring, and acting on your desires, not just for yourself but for your community and your world.

There is great power in mindful cultivation of desire. How do you feel about embodying that much power? How do you dance with desire?

#Desire #SoulPower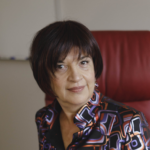 Hiro Boga is a writer, master teacher and mentor to visionary leaders who are shaping a world in which service and prosperity, soul and entrepreneurship, work hand in hand to create a world that serves all of life. 
Over the past forty years, Hiro has helped thousands of clients and students reclaim joy, freedom, creative power and sovereignty in their businesses, their relationships, and their lives. 
As a mentor and teacher, Hiro blends transformative energy technologies, the magic of story, and grounded spiritual practices with pragmatic business strategies. 
She works privately with evolutionary leaders to bring their most creative visions to life through a skillful blend of inner and outer work. The results are both practical and profound. 
Explore her writing, sign up for her free 7-day e-course, Sweet Success and the Soul of Your Business, and discover a wealth of other resources at HiroBoga.com. Connect with her on Facebook and Instagram for daily doses of inspiration.
Confluence Daily is the one place where everything comes together. The one-stop for daily news for women.