Reading Time:
2
minutes
Confluence Daily is your daily news source for women in the know.
Q:  I'd Like to Explore Erotica and Female Friendly Porn but I Don't Know Where to Start. Everything I'm finding online is very focused on male-centered storylines and feels icky or uncomfortable to me. I know there has to be something more appealing for women. I just don't know where to find it. Help!
A: Most porn (and media in general) is produced by men and with straight men's consumption in mind, so it's not surprising that so much of the stuff you'll see on Pornhub doesn't strike you as sensual or with women's pleasure as a focus.
I simply can't talk about woman-created porn without mentioning one of the founding ladies of female-focused filmed sex: Candida Royalle, now deceased.  Her work set the tone for current porn maker gals such as the very recommended Erika Lust – and there are plenty of women who helm their own creations for their own pleasure and yours, check out my pal Kimberly Kane's website.
Queer gals can find comfort in the long-running "CrashPad" series, which is fantastic at featuring folks of various body types and orientations. Queer sex tends to be kinky and looks nothing like the babes from Silicon Valley vids. I've also had a great time with some of the girl-girls at "Girlfriends Films".
New artists and creators are popping up all of the time, thanks to the availability of recording and production equipment. So let me know if you find more good suggestions.
More by Elle: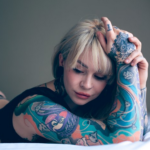 Elle Stanger is a queer femme sex worker and parent.  Listen to her award-nominated UnzippedPDX podcast on iTunes and find her at stripperwriter.com.
Elle is available for email coaching by appointment at ellestangerpdx@gmail.com.
Confluence Daily is the one place where everything comes together. The one-stop for daily news for women.